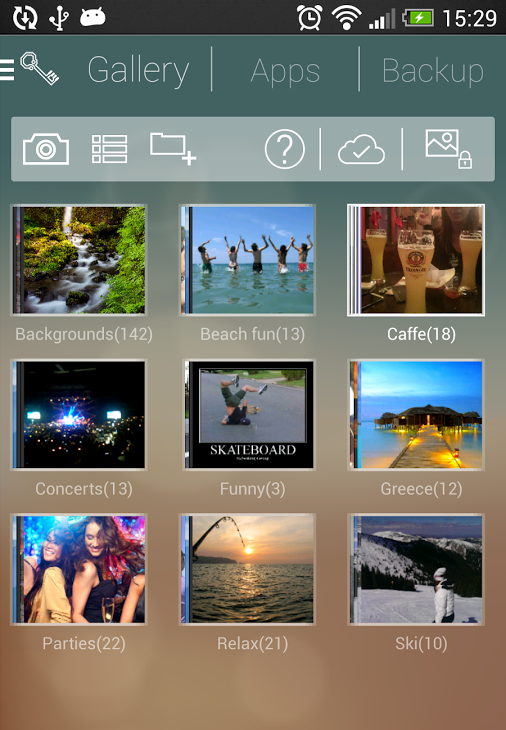 Vault - Hide Photos/App Lock
Welcome to the ultimate privacy app on Google Play: the Vault - Hide Pictures/App Lock. Never get caught off guard with sensitive material on your phone. Hide and protect your private Photos and Videos in private Gallery, lock confidential applications and securely backup your data in the Cloud. Share private data among multiple devices. Unlock apps using only your face with built-in Face Recognition mechanism or use Fake Crash dialog to mimic application error. Take control and keep your private stuff really private with Vault.
Main Features: Hide Pictures and Videos. App Lock: You can lock SMS, Contacts, e-mail, Gallery, Market, Settings, Calls or any other app of your choice. Private Gallery: Store your private pictures and videos in Vault Gallery. You can take a photo directly from the Vault, import photos from Android gallery or simply "Share" any picture or Video to Vault. Once in the Vault, all your private data will be secured, encrypted and invisible to other Gallery apps. Fake Crash dialog unlock. Mimic that your app has crashed. Vault cloud (premium) enables you to securely store all your private Images and Videos in the cloud and to transfer the data between multiple devices. Moreover if you lose or change your device, your private data is safe with us. Simply install Vault app on a new device and restore the entire private content with a single click. Break In Attempts. Every time someone enter wrong pin code or creates wrong pattern, Vault app will record and store this attempt. Time based lock. You can choose time of the day and weekdays when to activate App Lock. Wi-Fi based location lock. Once your device is connected to selected network(s), App Lock will be activated. Advanced Security. Once this option is activated, no one will be able to uninstall the Vault except you. Normal uninstall procedure will be disabled. Password Recovery. In case that you forget your pin code or pattern you will always be able to reset existing lock and regain access to Vault app.
Platform:
Android
Install App:
Support: